Your pet's health is as important as everyone else's inside your household. If you observe that your pet is experiencing something unnatural and different, you should raise your concerns with a vet immediately so they can determine if something is going on with your pet. This way, they can provide proper diagnostics and prescribe you the right treatment. However, taking your pet for an in-person visit to the vet clinic might be challenging. Aside from the fact that most pets feel uncomfortable and scared of going to vet clinics, you'll also have to go through the hassle of driving to the clinic.
Luckily, the world today allows for an online vet consultation, making everything easier and more convenient on your end. This way, you don't have to drag your pet to the vet. When you look for a local Chelsea animal hospital, confirm if they can do an online consultation, allowing everything to be at ease.
Furthermore, if you're planning to take your pet to an online vet, below are some tips for your first online vet consultation that you need to prepare for:
1. Treat It As An Actual Visit
Keep in mind that an online vet consultation is almost the same as an actual visit to the vet. It's important to treat these online consultations as an actual visit to the vet. Imagine that you're consulting and communicating with the veterinarian as if you are face to face. The only difference is that you'll be facing your screens rather than your physical self. But don't worry, as proper communication will make everything effective and beneficial.
An online vet can discuss anything about the current condition of your pet. The only difference is that online vets aren't allowed to write prescriptions as they need to see your pet in actuality. But if your pet is only experiencing light conditions, your vet will provide you with non-prescription medicines and even give you tips on how you can help to make your pet feel better and comfortable faster right from your home. If your pet is experiencing something more serious, your vet would recommend you to go down and visit their clinic for proper assessment.
2. Check Your Internet Connection
It'll be easier if you and your online vet don't have any issues throughout the whole duration of the online consultation to avoid interruptions and focus on the connectivity rather than the consultation. Ensuring a stable internet connection should be one of your priority lists for a smooth and quick consultation period. Your internet would dictate if there would be any lags and delay while you are communicating with your online vet.
Ideally, you should make a run test first and see how fast or slow your connection is. You could try moving your station to a stronger signal or consider switching to cabled connectivity. You could try to make a test call and see if you're receiving clear and quick signals. You should do this test run at least an hour or two before your appointment.
3. Set Up Your Video And Audio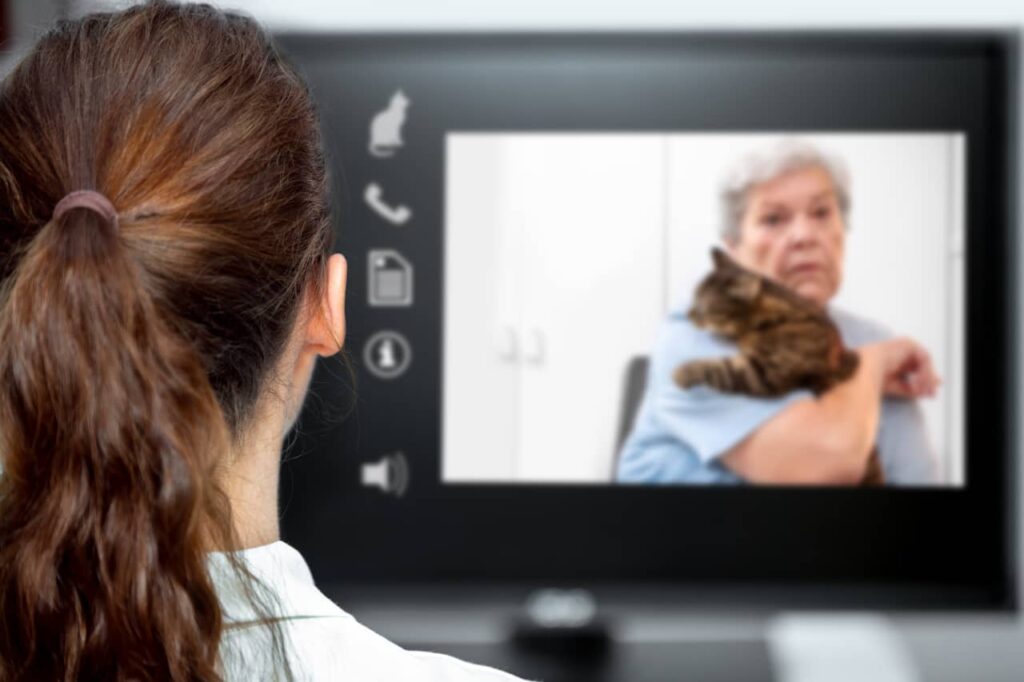 Your online vet would purely rely on what they see or hear during the entire duration of the consultation. It's best to set up your video and audio properly so that you don't have any issues once the call starts. You should also keep in mind to test out your video and audio before even placing the call. This'll allow you to resolve any issues instead of placing the call right away and encountering those issues during the consultation.
Your video and audio are essential in making an online vet consultation successful. This is the way to help you communicate with your online vet. So, if there were any issues, it would give you and your online vet a hard time understanding each other. Ideally, you should use a high-quality camera so they can have a clearer view of your pet's condition.
4. Take Pictures And Videos Of Your Pet
Your pet's behavior will be one of the things your online vet will check. Taking their pictures and videos experiencing their symptoms would help your online have better access to your pet and help them understand the current situation.
Make sure to take better photos and shorter videos. The images of your pet should be clear and not blurry. Your videos should not take too long. 30 to 45 seconds is enough. These would allow your online vet to assess your pet properly. This would be helpful, especially if your pet isn't showing any symptoms during your call.
5. Look For A Good Location
Since the online consultation will be in the comfort of your home, make sure to find a suitable place for you and your pet. You and your pet should stay in a place where you are comfortable. It's easier to communicate and discuss things if you're comfortable. It would also help your pet relax since they're also satisfied with your chosen spot.
You also need to make sure that your chosen location would not have any disturbance or too much background noise. This is to help you and your online vet understand each other more. You also need to ensure the surroundings don't have too much clutter. This would avoid any distractions during the consultation as well.
6. Prepare Vaccination Records
Having your pet's vaccination records by your side will help you prepare for whatever questions your online vet may ask you. Ideally, your vet should know your pet's health history to have a proper assessment of your dog's condition. Moreover, providing a vaccination record would help determine if they're due for another shot, which could help resolve the problem.
Ideally, you should prepare your vaccination records handy during your call. This will prevent you from standing up during mid-conversation, wherein you can simply pull them up from your table. This will help for a quick conversation.
7. Prepare All Your Questions
During your online vet consultation, you might be too occupied with discussing your concerns and symptoms of your pets that you might tend to forget to ask important questions that are bothering you for a while. To ensure that you make the most out of your consultation, you should prepare all of your questions.
Before your appointment, you should list down all of the questions you need to ask your vet. Don't worry about asking too many questions, especially since your pet's health could be at risk. The more you can come prepared, the better for you and your pet.
Takeaway
As you go through with your first online vet consultation, ensure that you prepare yourself well to make the most out of your appointment. The more you can allow your call to be fuss-free, the better it'll be for your communication and understanding of your pet's health. This way, you can communicate well and provide the best help for your pet.