Generally speaking, dog owners should try to walk their dogs for between 20 and 30 minutes every day. This will provide a dog with more than enough time to do their business outside while also getting in some exercise in the process. Dog owners shouldn't only prepare to walk their dogs when it's nice outside. They're also going to need to get used to the idea of walking a dog in winter.
Walking a dog in the winter isn't going to be all that different from walking one in the summer. But there are a few things that you're going to need to keep in the back of your mind when you're figuring out how to walk a dog in winter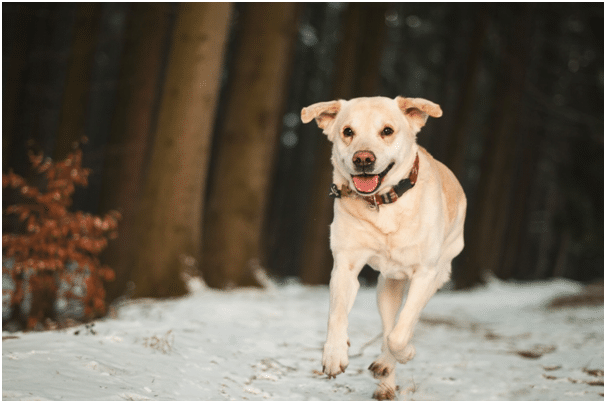 .
Check out six expert-approved tips to follow when walking a dog in winter below.
1. Pick the Right Times for Walking a Dog in Winter
When walking a dog in winter, you always want to choose the best possible times to do it. Ideally, you don't want to do it too early in the morning or too late at night since it's going to be very cold and dark at those times.
Instead, you should try to walk your dog in the middle of the day in the winter when the sun is at its highest point. This will provide both you and your dog with at least a little bit of warmth, even on the coldest of days.
2. Put a Dog Into the Right Outfit for a Walk in the Winter
You probably wouldn't spend a bunch of time walking around outside in the winter without a coat on. So why would you expect your dog to do it?
You shouldn't ever send a dog out into the freezing cold without anything on. You should have some special clothes that you can put on them in the wintertime to keep them warm when they're outside.
This cute dog hoodie is an excellent example of something that you might want to stick on your dog in the winter. It'll set them up with some protection from the elements and make them look cool at the same time.
3. Consider Slipping a Dog's Paws Into Boots for a Walk in the Winter
The ground can be very cold, hard, and rough on a dog's paws in the winter. It's why you should try to make it a point to put a set of boots on your dog before walking around with them outside.
It's not necessarily going to be easy to put boots on a dog, especially if they're not huge fans of them at first. But you should still do your best to get boots onto your dog's paws if you can.
Boots will protect your dog's paws from the salt that gets put down on sidewalks. They'll also prevent your dog's paws from getting dried out in the cold winter air. Putting boots onto your dog's paws will be well worth the time and effort that you'll need to put into doing it.
4. Be Careful About Where a Dog Walks in the Winter
In the wintertime, it's not uncommon for the ground to be covered by a combination of snow and ice. This snow and ice can make it pretty much impossible to see what might be hiding out underneath it.
With this in mind, you're going to need to be extra careful about where your dog steps when you're walking them in the winter. You should keep them on a tight leash at all times and make sure that they don't walk in a place that could potentially put them in danger.
5. Limit How Long a Dog Goes for a Walk in the Winter
Earlier, we talked about how it's important for most dogs to get anywhere from 20 to 30 minutes of walking in every day. That should be enough to give their bodies the exercise that they need.
You should make that your goal on the nicer days throughout the year. But during the winter, there is nothing wrong with limiting how long you walk your dog. If it's very cold out, you might be able to get away with taking your dog on a walk that only lasts for 5 or 10 minutes at most.
You should keep a close eye on your dog while walking them in the winter for any signs of trouble. If you see that they're shivering and walking slower than usual, that might mean that they need to get back inside ASAP before they're forced to face off with frostbite or any number of other conditions.
6. Avoid Walking a Dog in Winter When It's Too Cold Outside
Can it ever be too cold to walk your dog? That's a question that a lot of dog owners ask every winter.
And the answer is…yes! Depending on where you live, there could very well be some days that are too cold for walking a dog.
The exact temperature is going to be based on what type of dog you have. Some dog breeds handle the cold in the winter much better than others.
But once the temperature drops well below 32 degrees Fahrenheit, that's often a surefire sign that you're going to want to keep your dog inside rather than walking them. You can play with them inside to help them get the exercise they need without subjecting them to ridiculously cold temperatures.
Keep Your Dog Safe by Keeping These Tips in Mind This Winter
Overall, you're going to need to put a lot of thought into walking a dog in winter. It isn't something you should do on a whim.
You should consider everything from what your dog is going to wear to how long you're going to keep your dog outside before walking them in the winter. It'll ensure that they stay safe and comfortable as you walk them throughout the winter season.
Find more really useful tips on taking great care of your dog by taking a look at the other articles on our blog.