Your dog is more than just a pet they're part of the family, and as such, they deserve all the love and appreciation from their owners. With their unconditional love, contagious uplifting mood, and always begging puppy eyes, who could ever say no to what they want? Not you, especially if their big day is coming.
Now that their birthday is coming, you're undoubtedly excited to celebrate it. But wait, what will be the party's theme? You've gone through several dog party celebrations in the past, and you can't seem to think of something new or out of the ordinary. Of course, it has to be extra special. This is your favorite pet you're talking about.
Dog Birthday Party Ideas To Try
Your adorable pet deserves the most adorable birthday celebration. You may spoil them daily, but this is an entirely different day. Their birthday surely deserves a bang and some treats, too. You can get a custom-made cake and shower your pooch with all of their favorite desserts and snacks that you can get from this website and other sites that sell dog-centric merchandise.
Here are some birthday party ideas that you can try to celebrate your little furry friend:
1. Have A Paw-Ty With Special Furry Guests
If your pup loves socializing and being with friends, throwing a party is perfect for them. Invite the entire gang for the special day whether it's the dog next door or that friendly pooch you always see and play with at the park. The more, the merrier, especially if your dog has a lot of furry buddies.
Don't forget to stack on delicious dog treats, enough water, and food for all the guests. Of course, don't forget about the chaperones. You can have your own little party with the other owners as the dogs enjoy themselves sniffing, snacking, and barking their hearts out.
2. Set Up A Dog-Themed Photobooth
All dogs are just extraordinarily photogenic, right? You can take endless snaps of them, and there won't be a single angle where they don't look cute or charming. So, for the special day of your photogenic pup, why not consider setting up a photobooth for everyone?
You can create props and a backdrop to make the photo booth look and feel more dog-themed. Human guests will definitely love the idea, and they'll be surely hogging the photo corner together with their pets. Just make sure to establish a set time they can access the photo booth if you want their undivided attention during the party proper.
3. Prepare Games For The Dogs
What's a dog party without fun games and a little competition? You can prepare games like fetch or hide-and-seek to stir the competitiveness out of your dog and their furry guests. If you have enough space on the lawn or backyard, you can set up the party there, so you don't have to worry about dogs staining your carpet or ruining your living room décor.
Remember to prepare game prizes, too. It can be something as simple as dog biscuits or treats that you can give away to winners. You can also prepare gift cards from your favorite pet shop so the winners can get whatever prize they prefer.
4. Don't Forget The Paw-Ty Favors
Oh, yes, there's a party; naturally, there should also be favors. You can make homemade goodies for the dogs, such as cookies and treats. Then have them neatly packed in a small paper bag or box with your pet's picture on its surface. You can also include small toys like tennis balls or chew toys to make the guests beaming as they leave the party venue.
Don't forget to write a quick thank you on each party favor, too. It's a small gesture that may make your guests feel special and in awe of how you meticulously planned everything.
5. Go All Out On Party Props And Accessories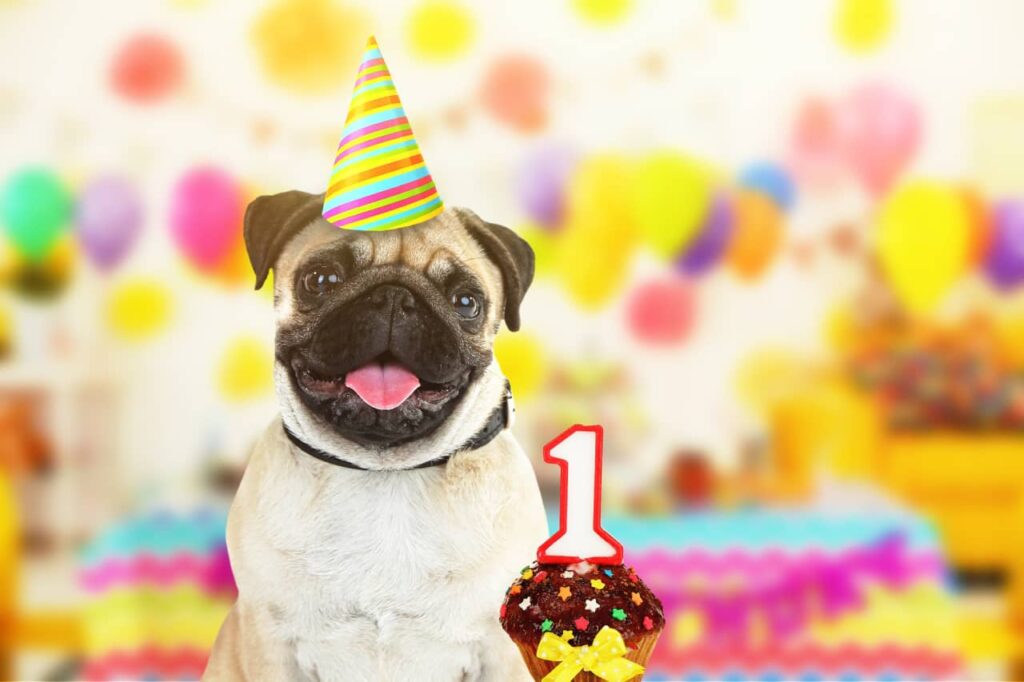 Your beloved dog sure deserves to have the best day ever. One of the ways to make this happen is to ensure the whole place will be filled with festivity, lantern lights, cute party hats, and other party props that fit the occasion.
You can search online on how to make those props on your own. Use glittering accents to make the decoration pop even more. And don't forget to blast the music to put everyone in their party mode.
6. Prepare A Cute Outfit For The Cutest Celebrant
As you go shopping for dog treats, toys, and favors for the guests, remember to also buy a cute outfit for the star of the day. For girl dogs, a show-stopping tutu dress would do the trick. Everyone will surely adore your pretty little princess. A snappy tie, on the other hand, will absolutely make any birthday boy look neat and polished.
7. Hold A Virtual Party
In case you feel it's unsafe to invite people over to celebrate with you say that someone's sick you can count on technology to make a party happen without having real guests in the house. Holding a virtual birthday party is something that'd excite your friends and relatives. All you need to do is set a date and time for everyone to go online.
You can set up a virtual channel where you'll just send the invitation link to everyone you want to join. As for the party favors, you can maybe send them through the post so their dogs can still enjoy the treats you prepared.
8. Celebrate At The Dog Park
Partying at home may not be a good idea for some reason. If so, there are dog parks where you can hold the celebration and invite other dogs to come, too. It can even be a spur-of-the-moment event where you'll just invite random dogs and people at the park, especially for the part where you'll be singing the happy birthday song. It's a good opportunity for your pooch to socialize with other dogs, too.
Happy Birthday, Doggie
There you have it, some of the great ideas to celebrate your dog's birthday. This day is all about them make it so by going all out with party decors, accessories, and props. You surely won't regret it as soon as you saw the happiest and most adorable look on your dog's face as you reveal to them the biggest surprise.